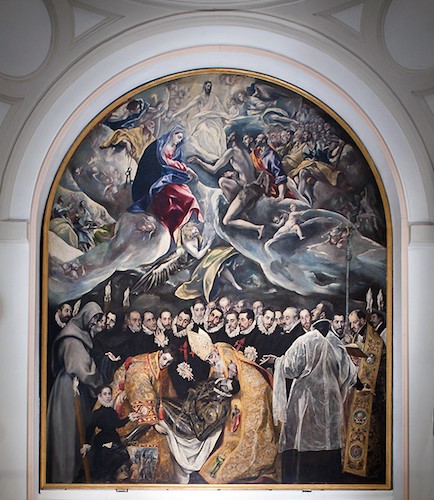 19 Jan

Toledo, Spain: Where El Greco Found a Foothold & Created Masterpieces

Doménikos Theotokópoulos, better known as El Greco, was born on the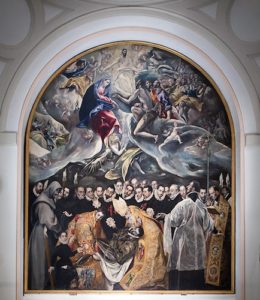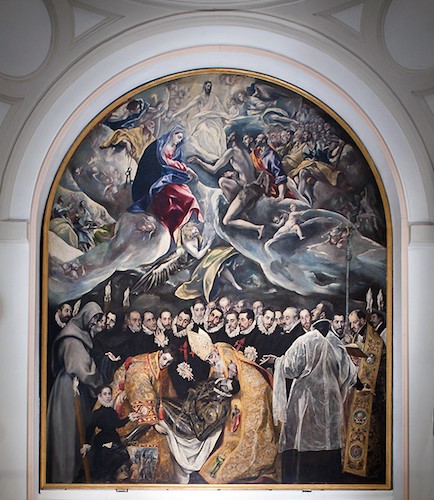 Greek island of Crete (1541) in Candia, the largest municipality of the island and principal port. At the time, Crete was a part of the Republic of Venice, and while not much is known about El Greco's early life, we do know that he decided to go to Venice to study as a Venetian citizen. El Greco found himself in the studio of renowned painter, Titian (Tiziano Vecellio), where much of his early work & training was done in the Venetian Renaissance style of the 16th century.  While El Greco did complete one of his finest early works while in Venice, the Miracle of Christ Healing the Blind, known as La Curación del Ciego (1570), it wasn't until he moved to Toledo, Spain where we see him truly thrive.
El Greco's Toledo Masterpieces – Why They Are a Must Visit
The main catalyst behind El Greco's move to Toledo was to seek out royal patronage from King Phillip II, who was building the monastery of San Lorenzo at El Escorial. Unfortunately, while this did not work out for him, he did meet Diego de Castilla, the dean of the Toledo Cathedral, who commissioned him to paint a group of artworks for the church of Santo Domingo el Antiguo. This is when his career began to take off. With this said, let's look at some of his amazing masterpieces that came out of his time in Toledo, Spain.
The Holy Trinity – La Trinidad (1577-1579). This was one of the first major commissions that El Greco did for the Church of Santo Domingo el Antiguo and gives us insight into how El Greco's pictorial technique will evolve over his later works. In this commission, El Greco uses continuity and a brilliant color palette.
The Assumption of the Virgin – Asunción de la Virgen (1577-1579). Also commissioned for the high altar of the Church of Santo Domingo el Antiguo, this artwork is what established El Greco in the Toledo area. Painted with the Venetian technique, the manipulation of contrasts and the use of color intensity became a hallmark of his work.
View of Toledo – Vista de Toledo (1596-1600). This is one of El Greco's most cherished pieces as it is only one of three landscape paintings to survive the era. Landscape paintings were extremely rare in Spanish art during this time period and thus, makes this piece famous for its depiction of the sky. It uses enigmatic symbolism and contrasts the glowing green hills of Toledo with the dark skies above it.
The Burial of the Count of Orgaz – El Entierro del Conde de Orgaz (1586-1588). Commissioned by the parish priest of Santo Tomé in Toledo, this masterpiece is El Greco's most famous painting and is universally regarded as his greatest masterpiece. The artwork depicts a local legend in which Saints Augustine and Stephen descend from heaven to assist in the burial of Don Gonzalo Ruíz (Count of Orgaz), a native to Toledo and beloved philanthropist. The lower section of the painting shows the burial while the upper shows the spiritual world waiting to receive this pious individual. The reason why art critics come to view it, is El Greco's extraordinary painting skills combine into one here, depicting mannerism, visionary experience, an impressive array of portraits, the use of contrast, and color intensity. If you are interested in viewing this particular piece, it can be found at the Santo Tomé Church in Toledo.
For art enthusiasts, tourists, or those interested in El Greco's painting history, his most modern works from the late 17th century can be found at the El Greco Museum in Toledo. The museum consists of two buildings, one which is a recreation of El Greco's home, and the other is the museum housing his late period works like the Tears of Saint Peter and the View and Plan of Toledo.  If you do plan on traveling to and staying in Toledo to visit El Greco's works, a convenient and safe option for storing your luggage while you explore the city is Toledo Lockers, a self-service, 24-hour, locker service that lets you book a locker online for your travel dates and access the locker at any time during your reservation.